Aesthetic Smile Enhancements
Bonding involves the direct application of tooth-colored composite resin and is typically used to create a more attractive smile.
Tooth-colored fillings are an alternative to traditional metal fillings and fall into two categories; direct and indirect. Direct restorations is composite resin applied in one appointment. Indirect restorations (inlays or onlays) are made of porcelain or composite resin materials fabricated by a dental laboratory. These restorations usually take two appointments.
Is Bonding Right For Me?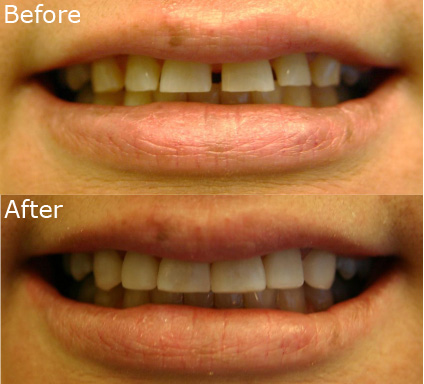 Bonding can be used to change the size or shape of your teeth, creating a smile that appears more symmetrical and gapless. This single-visit procedure provides a fast solution for a more attractive smile, and may eliminate the need for orthodontic treatment in some cases.
Bonding can also be used to mask tooth stains and discolorations that resist professional tooth whitening procedures. Although bonding may not be as long lasting as porcelain veneers or crowns, it can last for a number of years with proper care.
Are Tooth Colored Fillings Right For Me?
The advantages of tooth-colored fillings are:
The preservation of more natural tooth structure
Aesthetic smile improvements
Minimal risk of allergic reaction
No development of metal sensitivity
What Happens At The First Appointment?
Bonding the front teeth typically requires one appointment. The dentist may remove very minor amounts of tooth structure to maximize adhesion of the composite resin to the tooth, depending on the dentist's bonding technique. A tooth conditioning agent may be applied to the prepared tooth, followed by the application of an adhesive agent and the tooth-colored resin. Dr. Eydelman will contour the resin to produce the desired aesthetic appearance, and expose it to a special laser or curing light to harden the resin.
For indirect tooth-colored inlays or onlays, after tooth preparation, impressions are taken of your teeth and a replica of your mouth is created for the dental laboratory. A temporary filling is placed onto the prepared tooth for protection. At the second appointment, the temporary filling is removed and the inlay or onlay is secured with an adhesive agent.
Care Of Bonded Teeth & Tooth Colored Fillings
Teeth bonded or filled with composite resin or restored with inlays or onlays should receive the same meticulous care as natural teeth. Regular brushing, flossing, tongue scraping, and professional preventive treatments will maintain proper health and appearance for many years to come.
Whether you are considering general or cosmetic dental work, Dr. Eydelman and her team strive to make your experience positive and enjoyable. The first step towards looking and feeling your best is to schedule your initial consultation. Please contact ICON Dental today at (415) 248-5300, or email us at info@icondentalsf.com.