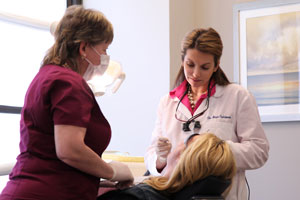 Your initial oral examination includes a visual examination, charting, periodontal probing, diagnosis and treatment recommendations. We will also take digital x-rays a complete set of x-rays for proper diagnosis of the anterior (front) and posterior (back) teeth, as well as the bite-wing x-ray series for proper diagnosis of proximal decay of posterior teeth.
Our other services include:
Cleanings & Periodontal Treatment
Composite Fillings & Bonding
Porcelain Inlays & Onlays & Veneers
Crowns & Bridges
Root Canals
Implant Restorations
Complete & Partial Dentures
Tooth Whitening
Mouthguards & Nightguards
TMJ Treatment
Whether you are considering general or cosmetic dental work, Dr. Eydelman and her team strive to make your experience positive and enjoyable. The first step towards looking and feeling your best is to schedule your initial consultation. Please contact ICON Dental today at (415) 248-5300, or email us at info@icondentalsf.com.