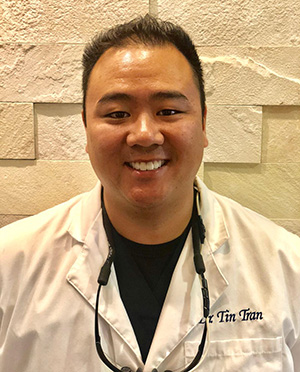 Dr. Tin Tran earned his Doctorate of Dental Medicine at Tufts University School of Dental Medicine after receiving his bachelor's degree in Physiology at San Jose State University in 2010. He grew up in the South Bay in Los Gatos, but now resides in San Francisco where he has been working with Dr. Maya Eydelman as her associate since 2017.
Dr. Tin regularly attends continuing education courses and always attends the regional dental conferences in order to keep up with the advancements and techniques in his field to bring the best to his patients.
Outside of dentistry, Dr. Tin has many interests including spending time with his wife, Kristen, along with his friends and family. He enjoys photography, hiking and camping, playing the piano and video games.
Whether you are considering cosmetic or general dental work, Dr. Tin wants to make your experience positive and enjoyable. The first step towards looking and feeling your best is to schedule an initial consultation with Dr. Maya Eydelman and her team. Please contact ICON Dental today at (415) 248-5300, or email us at info@icondentalsf.com.