Straighten your teeth without braces.
Consider Invisalign to get the beautiful straight teeth you've always wanted – without braces. Schedule a complimentary consultation with our doctor to see if Invisalign is right for you.
What is it?
The Invisalign system straightens your teeth with a series of clear, customized, removable aligners. Hardly anyone can tell you're going through treatment. And, because the aligners are removable, you can eat whatever you want.
Why choose Invisalign?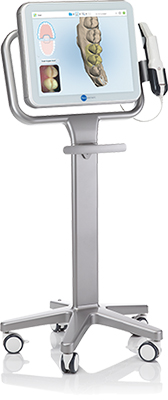 The aligners are invisible and more comfortable than traditional metal braces. Also:
eat and drink the foods you like during treatment
brushing and flossing are no problem
no uncomfortable metal or wires
spend less time in your doctor's office
see your own virtual results before you start using our 3-D imaging
How does it work?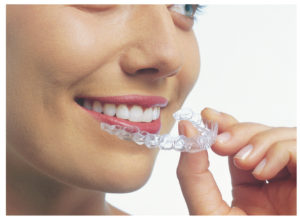 You wear each set of aligners for about two weeks, removing them only to eat, drink, brush, and floss. As you replace each aligner with the next in the series, your teeth will move – little by little, week by week – until they have straightened to their final positions. You'll visit our office once every six weeks to so we can monitor your progress. Total treatment time averages 9-15 months resulting in a beautiful new smile. You can download a PDF with information about the iTero Element Scanner we use.
iTero Element Scanner
We use the iTero Element Scanner, which makes your experience at the doctor's office more relaxing and enjoyable. The iTero Element intraoral scanner wand will capture a visual 3D image of your teeth and automatically update the screen with adjustments to the data as the health professional is scanning. You and your doctor will be able to see an instant visualization of your mouth in full color on the screen. The scans work seamlessly with Invisalign therapy so your entire dental experience is pleasant and with minimal pain.
Invisalign and Orthodontics
Dr. Eydelman is a member of The Academy of Gp Orthodontics and has completed a 2 year orthodontic training program for general dentists to expand her experience and knowledge in the field of orthodontics.
Is financing available?

Our office can work with you to find a financing option that works with your budget.
To see if Invisalign is right for you (it can work for adults and teens), please call us at (415) 248-5300 to schedule a consultation.